I realy love new GW new orcs, on the other hand in my teams I want all the players to be different and with their own personality.
So returning to the game after a lot of years far away of the fields I have modded and painted a Orc team. I have done it as a express, 10 days project.
Some easy conversions of Blood Bowl standard miniatures, Age of Sigmar and Warhammer 40k miniatures to create an orc team with his own personality. The color had to be red and a little withe. My team supporters, stand up and sings "You´ll never walk again" before every game.
Throwers and Linemen
The linemen are standard, the second thrower it´s an easy change of head and arms position of the basic thrower miniature.

Black orcs
Black orcs are orc Brutes from age of Sigmar, with some little modifications, they are a bit larger than new BB miniatures, the colors I have used for the skins are olive greens. Yes they are five, and there are only room for four in the team, the four who works harder in the training camp would play in the team.
Blitzers
One of them its the standard team black orc painted with normal orc skin tone, his sice its bigger than the rest of the blitzers but not as big as the black orcs , the others are the standard blitzer miniature and two modifications of this miniature, changing heads, modding arms...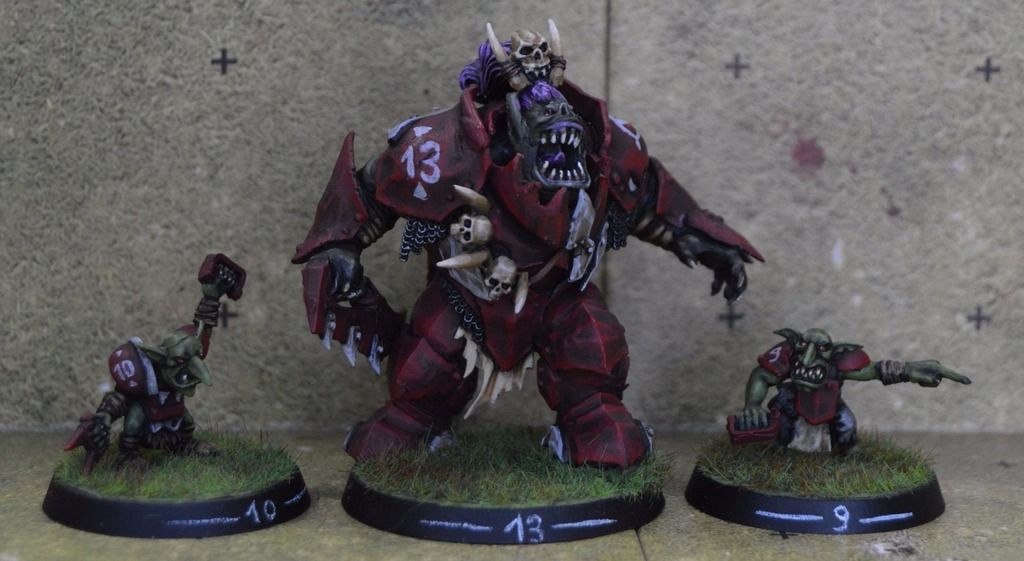 Goblins and Troll
Goblins are a mixture of wh40k gretchins and some stuff from my bitsbox, Troll it´s an Age of sigmar Orc warboos, I have changes his head for an squig, to make it look much more wild, stupid and hungry.
It´s easy to create an original good looking orc team with a little of imagination. In my opinion the very best of plastic GW miniatures is that they are easily modificable, so, in my opinion, new GW Blood Bowl boxes are much better if you doesn´t take them like a team but a base to build up a team.
Sorry about the photos, they are too dark an a little crapy, am not an skillful photographer.