A few bits & bobs that need a caring home and, hopefully, some painting attention:
The GW Winged Nightmare is assembled, with joints filled with modelling putty but the saddle was removed chopped out.
Includes rider (see photo below, upper right corner).
25.00€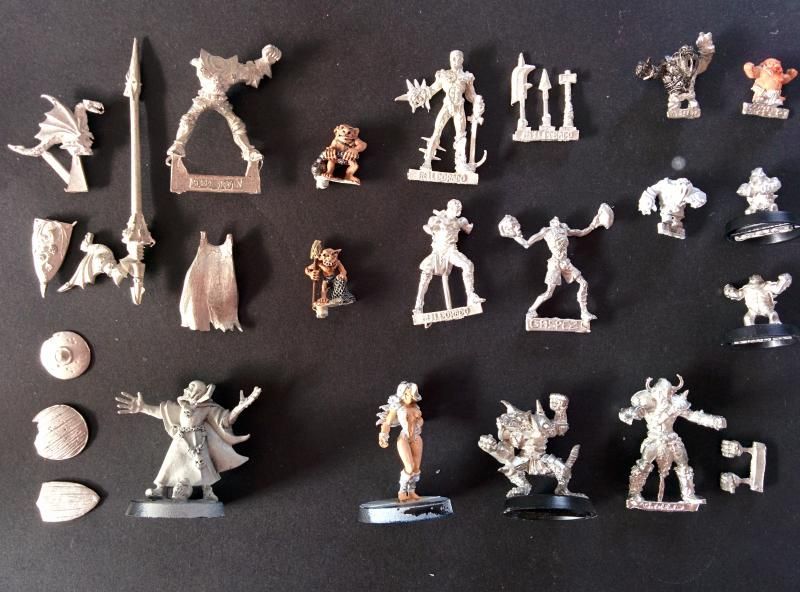 Lower left corner: Otherworld skeleton shields (metal) and converted GW necromancer (*huge* plastic zombie hands...) [make me an offer]
Two GW Snotling minis [make me an offer]
Upper right corner: miscellaneous Greebo miniatures for the Toutatis game - 2 orcs, 1 dwarf, 2 [s]ninja[/s] turtlemen [1.50€/each or make me an offer]
Middle: two berserkers (I think they are called "Damned Of Wrath" or something) from Hell Dorado + weapon options [5.00€/each or 8.00€/pair]
The rest are [s]Blood Bowl[/s] Fantasy Football miniatures [5.00 €/each]:
- wood elf linewoman (Greebo)
- viking lineman (Greebo)
- skaven blitzer (GW)
- zombie throwing head (Gaspez)
- a couple of fists from a Meiko dwarfs miniature
PM me if interested and bear in mind prices are negotiable.