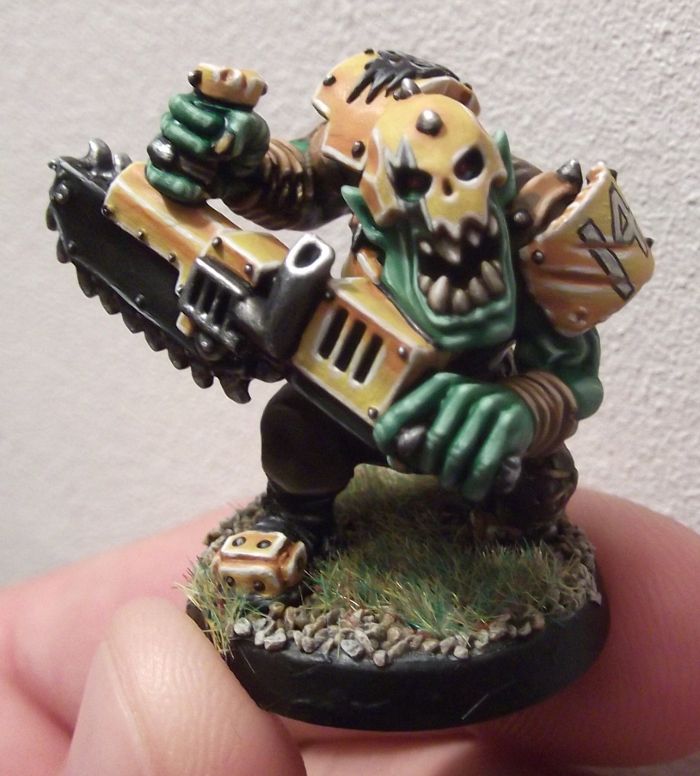 Ugroth Bolgrot was once a pretty solid player at Mork`s Maulers until the fans one day, after a fateful defeat, dismantled the team. Only three players from the original Maulers remained and Ugroth was one of them. Although the Maulers were rebuilt in the next two years, this event had Ugroth deeply shaken. He was simply no longer the same.
For weeks he brooded how to take revenge on the rebellious fans until he first saw a chain saw in action during a game of the Dwarf Giants. It was loud, brutal and ever wanted more - just like him. The team outfitter of the Giants had something going with an elf cheerleader for some time and therefore Ugroth was successful at blackmailing him to get a hold of a chainsaw himself.
From there on Ugroth went by "Ripper" Bolgrot and his relationship with his chainsaw, and a statistical record of 42 dead fans in a game, has become legendary in the Blood Bowl leagues and has contributed significantly to the reconstruction of the Maulers, which are sponsored by Block and Dodger since then.