This year, the Euskal Turnover association presents its annual Blood Bowl tournament which will take place in a bar - restaurant in the heart of the Basque Country. Hasparren is a village 20 minutes from Bayonne where you can discover quality food and local beers at reasonable prices.
It is on the occasion of the 7 years of the Europen that we celebrate the birth of this festive event, focused on openness and inter-community exchanges. In order to put some color in this winter period, we invite you to come disguised to make this event even more strange and memorable.
[url]https: //www.facebook.com/euskalturnover/videos/1442143462683137[/ url]
Shuttles can be organized for people who come by train (Bayonne station) or by plane (Biarritz airport).
For housing, we will accommodate on request and to the extent of available places. For the rest we invite you to find local accommodation homestay or hotel.
[spoiler = "Information on the Baiona Bowl 2018 - Europen Series"]
NAF Tournament and French Blood Bowl Championship (individual and team)
Team tournament of 3 coaches in 5 rounds
Welcome COSPLAY
Date: 17 and 18 February 2018
Location: Mimi Ostatua, Fronton Bar
1 place of the Jeu de Paume, 64240 Hasparren
Inscriptions:
€ 30 per team before January 17, 2018
45 € per team from 18 January 2018
payment by check, paypal, IBAN, cash
Contact:
nicodaz@free.fr
FB: [url]https: //www.facebook.com/events/141725279813222
/[/url]
WEB:
http://euskal-turnover.forumactif.org/t1816-
baiona-bowl-EUROPEN-series-17-and-18-February-2018
Rules Pack in PDF
One of tournament goodies: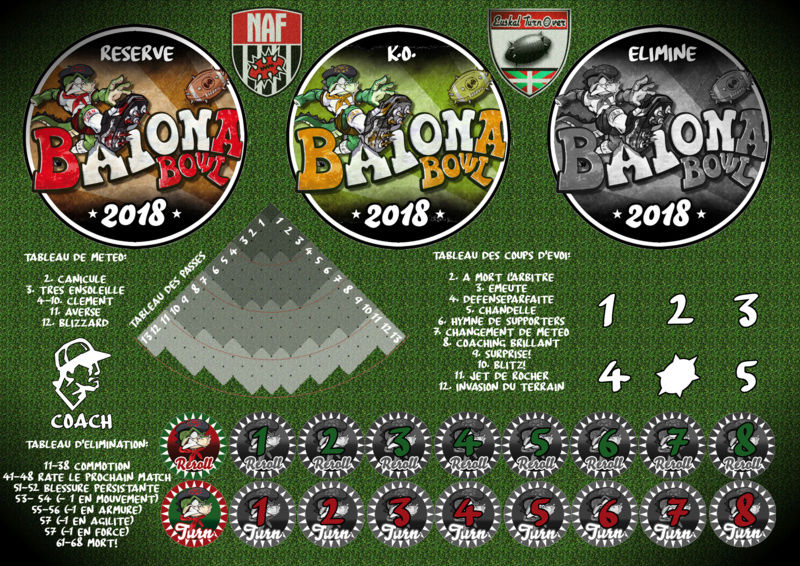 Interested teams
Azes
Azes
Bordeaux Blood Bowl Club
Euskal Turnover
Logrono Bowl
Pays Gore Hardcore
Pilous
Pilous
SOAP
SOAP
BB Corrèze
Registred teams :16 teams maximum
Lordillo y amigos
greatings to our sponsor FF-Fields!