This is a set of three of what I'm going to call 'Deepest Green' NAF Block dice. They date back to the NAF 'Dark Green' print run, and are essentially misprints. Of the 1000's of dice I packaged and shipped, I came across two of these. With the change of tenure, Lycos shipped the rest of the print run and also only came across two of these.
So to the best of our knowledge, there are only 4 of these dice in existence!
Obviously they have some value, and after putting our heads together at this year's NAF Championship, Lycos and I decided to utilize that value and raise some money for charity. To that end, we are putting up a set of three (the only set of three!) for charity auction.
The chosen charity is The Roy Castle Lung Cancer Foundation:
http://www.thrudball.com/roycastle.html
via Frank Hill's annual Thrudball Charity auction.
http://www.thrudball.com/index.html
Frank has done sterling work in fundraising for the charity over the last few years, and it seemed a very worthwhile beneficiary.
We felt that it would only be right in offering the opportunity to bid on these to the worldwide community rather than just those fortunate enough to attend the event in person.
Here's how it's going to work:
I will be accepting blind bids for these via pm both here and on the NAF site until 23.00 GMT Thursday 9th of August.
All bids to be in GBP Pounds Sterling.
All online bids will remain strictly confidential with the exception of the winning bid (should it be an online bid) which will be made public after the event.
The dice will go into the actual auction along with the other lots.
The highest bid received online prior to the deadline will effectively become the reserve price.
Should the winning bid be online, it will be adjusted downwards to +£1 GBP over the second highest bid (whether online or at the event).
Should the winning bid be online, it will include secure shipping worldwide.
Payment will be via paypal or (UK only) personal cheque.
Here's a couple of pics. Apologies for the lack of quality, hopefully the different lighting will give an idea of the 'Deepest Green' shade in comparison to the NAF 'Dark Green':
Reminder that the auction is for a full set of three, not just the pair shown in the pics.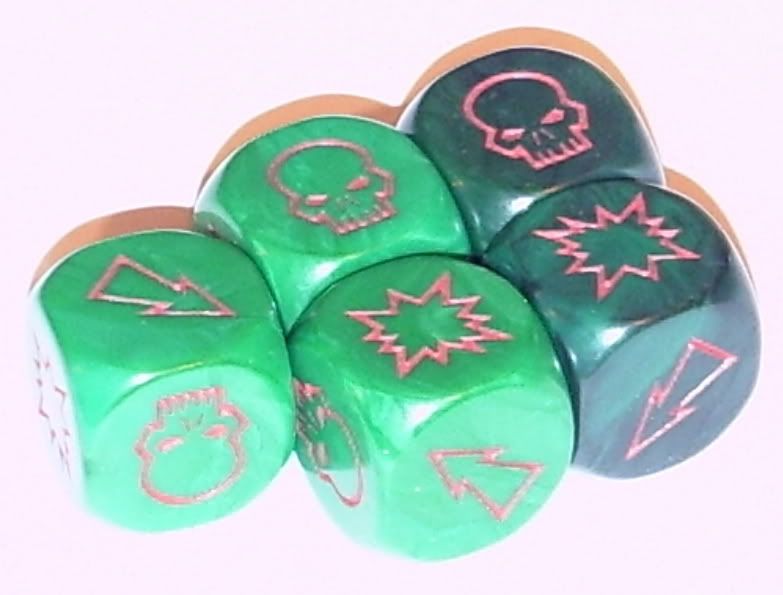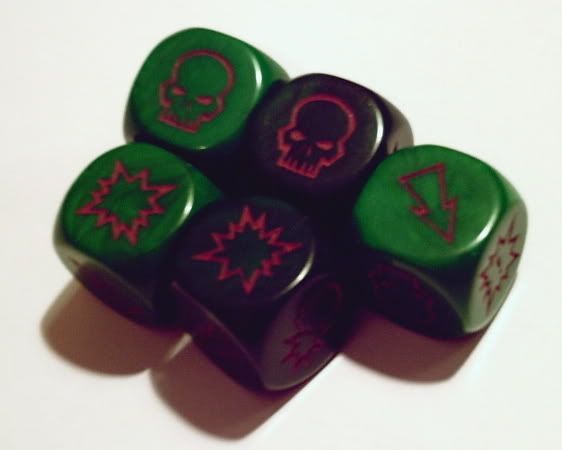 Free feel to ask any questions, and please draw attention to this on the French, Spanish, other international and league forums.
Cheers.